Monday 11 November 2013 - Filed under Chess
A big part of joining the local chess club was to enter the leinster leagues this year and get a few solid games. So I'm now playing in the Bodley Cup, Group A on the Benildus B team. The Bodley is division 6 in the leagues, and they have too many teams this year so they've split them into two groups. A isn't better than B, they're meant to be even and the winners in each will play each other for the final title. There's talk of resurrecting division seven next year to cope with the increase in numbers. And yeah, I don't know why Benildus A is in Bodley B, and Benildus B is in Bodley A either. And it doesn't help when at the club they start talking about the Bodley A or Bodley B team and I lose track of who they're on about
Anyway…
The matches (by the way, I'm writing this for those who don't play much OTB chess in Ireland and don't know this, those of you who do play chess in clubs, sorry to bore you
) use a standard time control of 90 minutes per side, so they can run to a maximum of three hours; there's one roughly every two weeks, and the home games just happen on the normal club night and the away matches either happen on the other team's club night if they're close by or on Saturday afternoon if they're a bit of a drive away. And you don't have to (or even get to) play in every match – the club submits a panel of players and for every match chooses five players to play (who are then put on boards one through five in order of ability). So out of the nine matches Benildus B will play in, I would only expect to play in six of them at most. But I was on the cards for the first match, if only because as one of the only adults on the team, I can drive
The first match was an away match on the Saturday the weekend before last (yes, this took a while to write, but they released Battlefield 4 in the interim
) against Drogheda Chess Club. Nice digs: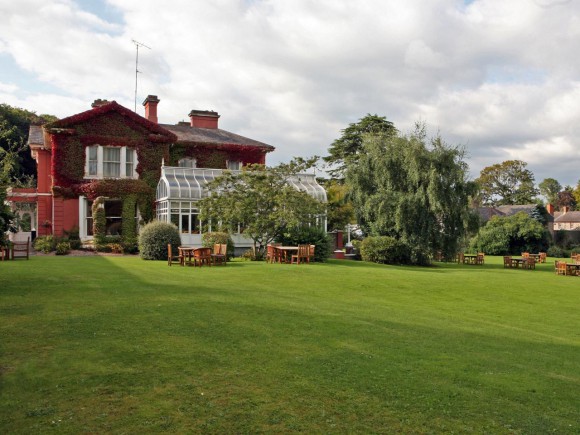 Arrived ten minutes before the start (if this was a target shooting match I'd want more time, but for chess, not so much), said hello to the other players, Kevin (the team captain) did the little bit of paperwork we had, and then we kicked off. I was playing board 4, and my opponent was a junior as usual (if you're an adult starting off in chess, that's something you just have to get used to) and had the white pieces. We went straight into a Caro-Kann opening as I was expecting we would, and it didn't go too badly for most of the game, but towards the end I made a horrible blunder and it basicly threw the game away, which was a bit disappointing as it had been going well enough and it was probably the one move of the game where I didn't have my "slow down" mantra running through my head. Here's the game, with annotations:
As you can see from the analysis graph, the game's more or less even (at least at this sort of level – I'm sure the guys who've been doing this for 30 years would see far more weaknesses, but they play in a different division
) up until 26 …Nd4 at which point the whole thing goes pear-shaped and never recovers: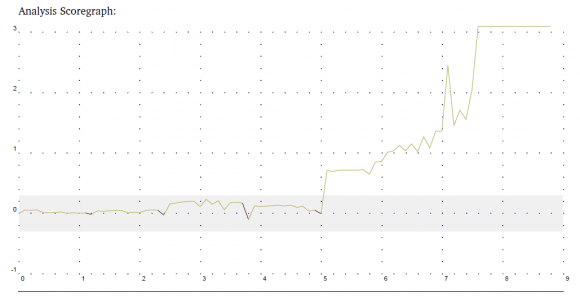 But still not a bad game and a decent enough start to things. The team reports on the match are here from the Benildus side and here from the Drogheda side.
Probably the most interesting part of all this though, is the postmortem analysis in the club on the following club night with the higher-ranking players. The engines are good at showing where you went wrong and evaluating what might be better, but the humans are still better at figuring out why you did something or didn't do something and how to improve. For example, John suggested on move 13 playing …Qb7, which would not only have dealt with the threat of white playing Bd6, but would have given me a much better shot at winning too. Rats. I still play too passively it would seem, something to work on in future…
The next match is this Wednesday in Benildus, against Gonzaga who are the favorites to win the division overall.
:: Share or discuss :: 2013-11-11 :: Mark Dennehy