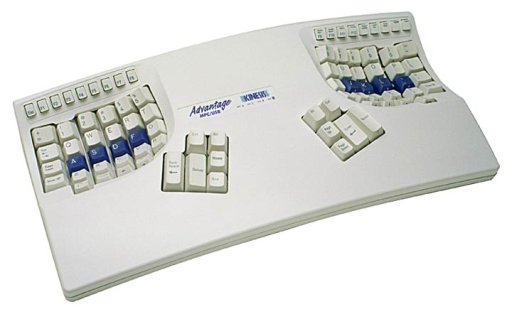 Back when I was finishing my undergrad degree, my final year project (which is a big part of the final degree exams in Trinity) was in Java on a Sun SPARCstation 4 (at the time, one of the more powerful boxen you could get access to as an undergrad). The project was a fair bit of fun, writing a robot controller in Java just as 1.2 was coming out of beta. Lots of long hours were spent in that lab with three or four others working on their projects, and quite a few all-nighters interspersed with the odd game of networked bomberman 😀 I even managed to get a published paper out of it.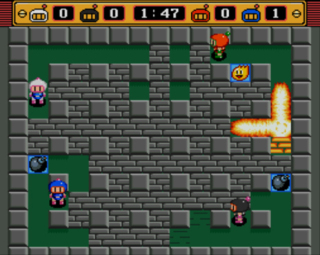 The downside to all of this fun was the Type 5 keyboard.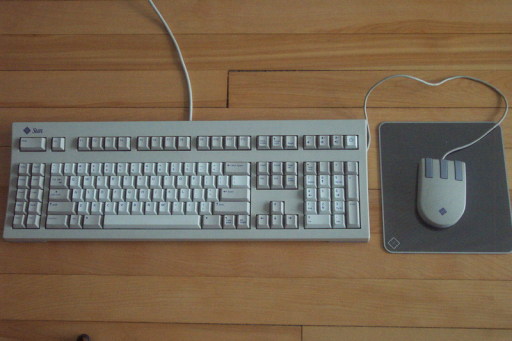 As planks went, it wasn't really a bad keyboard – no Model M, to be sure, but better than a lot of the cloned generic planks that were out there at the time. And the mouse wasn't as bad as fingernails on a blackboard. I suppose. The thing was, six months of long hours on that puppy, combined with a few hours a week of aikido did a right number on my wrists. As you'd probably expect I guess – this kind of thing does tend to stress the joints if you get it wrong: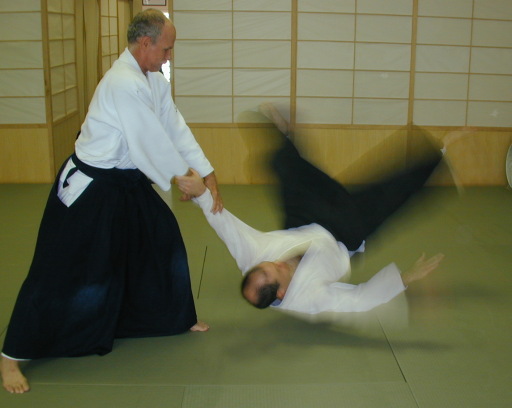 Anyway, when I started my PhD I had only one non-negotiatable demand – I wanted a good ergonomic keyboard because sharp stabbing pains in the backs of my hands and the insides of my wrists didn't seem like a fun way to spend a day. I did a bit of searching on the net, and found the Kinesis Contoured keyboard. Lots of testimonials, clever design and nifty looks. I ordered one, had it shipped, and happily unwrapped it and started to use it.  And it was magnificent. It took about a week to get back to my normal speed of typing after the switch (I got taught to touch-type by nuns on old manual typewriters in secondary school, which I suppose says rather a lot about the school and what they expected of their pupils – it also explains why I managed to break two computer keyboards before I learned that you don't need to actually use a lot of force on them 😀 ). Once I was back up to full speed though, I found that that speed then increased. Not by a massive amount, but 10% is 10%. I also found that I had no pain in my arms at all, even after several hours of typing.
So, a success all round and I proceeded to use that keyboard for about five years until I literally typed it into oblivion – one of the circuit boards in the keyboard failed, and rather than ship it back to California and pay for the repairs, I just used my laptop instead. Eventually, however, I got tired of that and went and bought a new model (Kinesis had just brought out a USB model the year earlier). And again, I proceeded to type the daylights out of that one as well (it's still holding up today actually, these things are really surprisingly sturdy).  I can't recommend them enough to those who have RSI from typing.
However.
They have two major problems – firstly, they're rather expensive at $300 apiece. It could be worse – at one point you could only order them from California, so you had to have them shipped to wherever you were (that's now changed, thankfully, there are a lot of shops stocking them in Europe these days). But $300 is a decent netbook these days, so it's quite hefty still.
The other major problem is that the bowls the keys sit in. They're central to the design – they let you just curl and uncurl your fingers naturally to reach all of the keys – but they also collect dust, dirt, grime, fluff and eyebrow hair like magnets. And so, after a short while, you end up with something like this: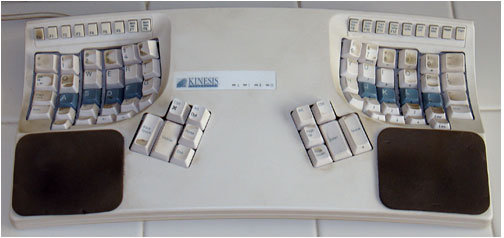 Which looks bad enough from this distance, but get up close and look between the keys and it's downright unpleasant. So today, I got to spend a long half-hour pulling all the keys, cleaning up the bowls, cleaning off the keys and replacing everything.
Ew. But at least it's clean now. Mind you, it's nothing as pretty as Josh Carter's painted version: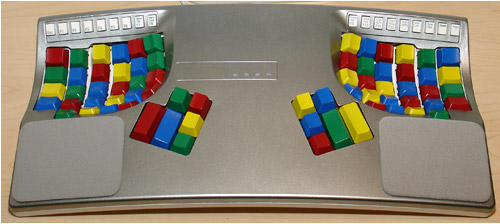 Shiny…