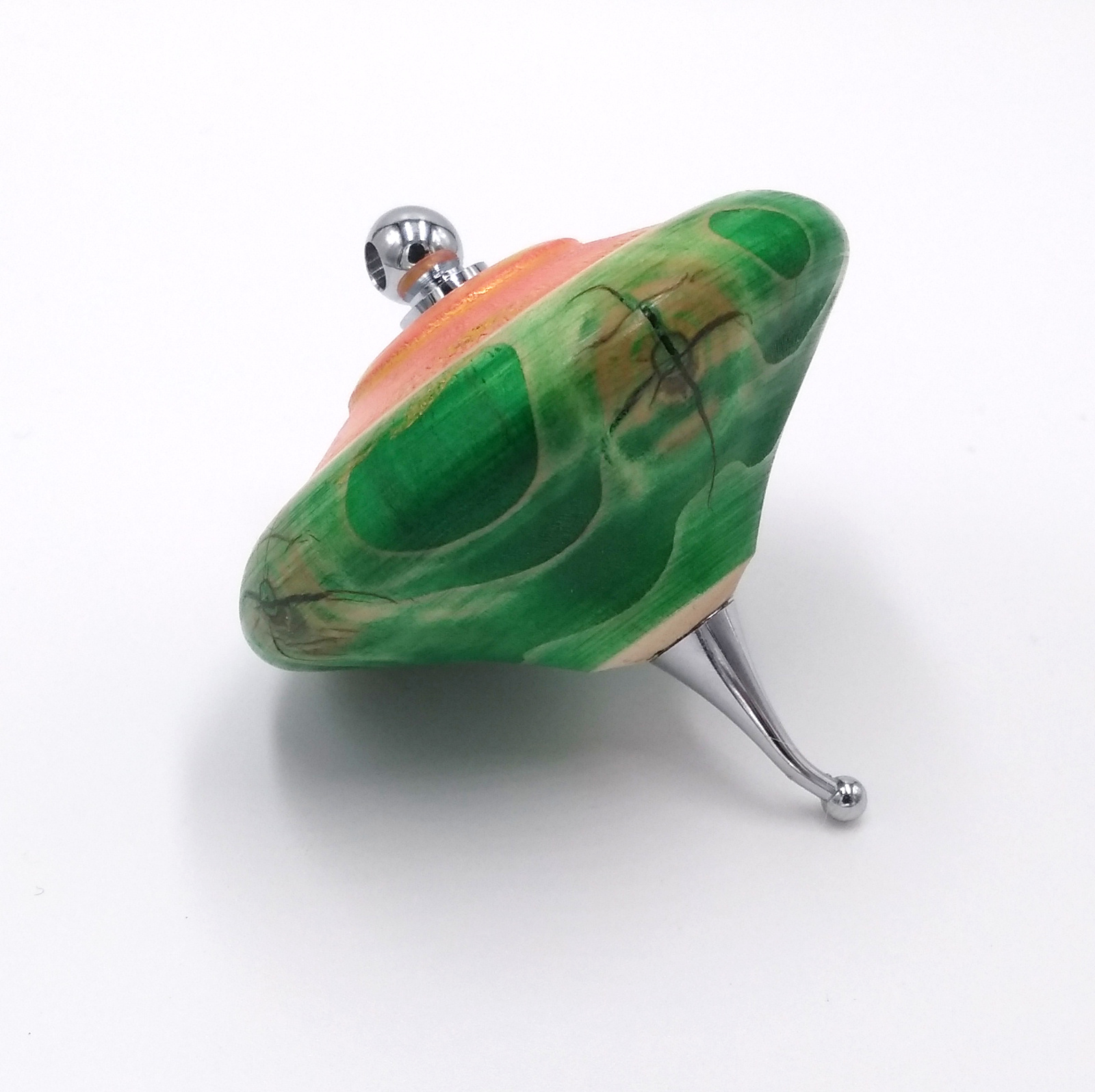 So a few years ago, some woodworkers on a podcast made an April Fool's joke about how they always picked the same species of xmas tree so that they could mill it up for lumber after the holidays and make a chest of drawers out of them. Which was funny, until another woodworker went and actually did it (with small boxes not a chest of drawers, because there's a lot of timber in a chest of drawers):
And this was important because until this point, the several xmas tree trunks in the back yard were just there because I had been too lazy to make a second trip to the recycling yard with them. See, after the holidays I take our now-long-dead-and-drying tree into the back garden and hack off all the branches with a hatchet and bag up the branches and the two kilograms of needles that have fallen off them on the ten-yard trip from living room to back garden. Those bags go to the recycling center because if you tried to just shove the tree into the car to bring the whole thing there, you'd be cleaning pine needles out of the car ten years later.

But now, there was a reason I was keeping those trunks 😀
And what better time than during a pandemic lockdown to do something with them? So, first up, take a glazier's hacking knife and debark them and lop off the top foot or three until we get past the really bad shakes and checks on the surface (these things have just been drying outdoors untended for up to five years now).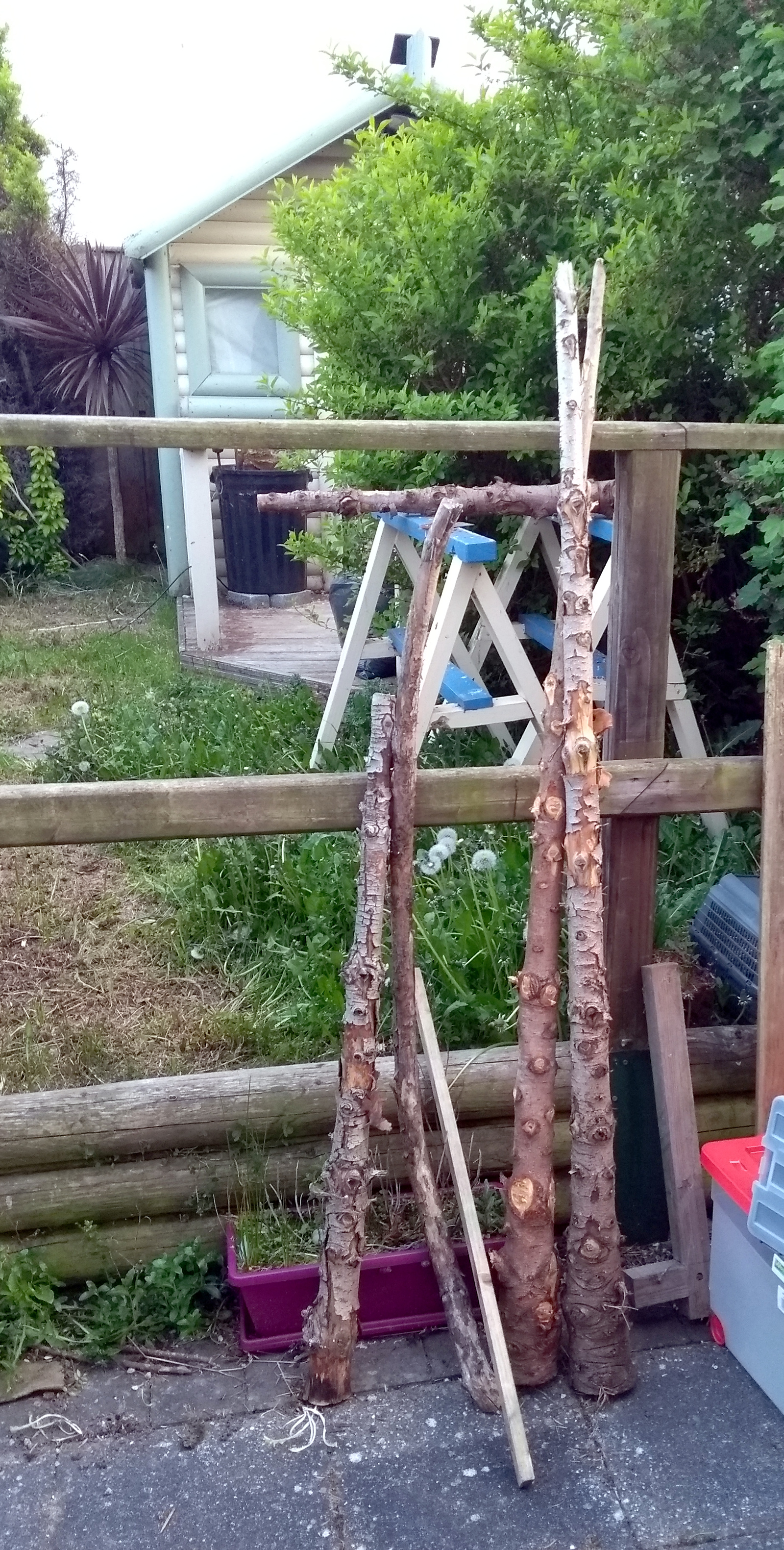 Then I took the more manageable-in-my-shed lengths into the shed and cut out all the pieces that looked salvagable, trying to get at least one chunk from every trunk so we'd have every year represented. The bandsaw rendered the rest into firewood.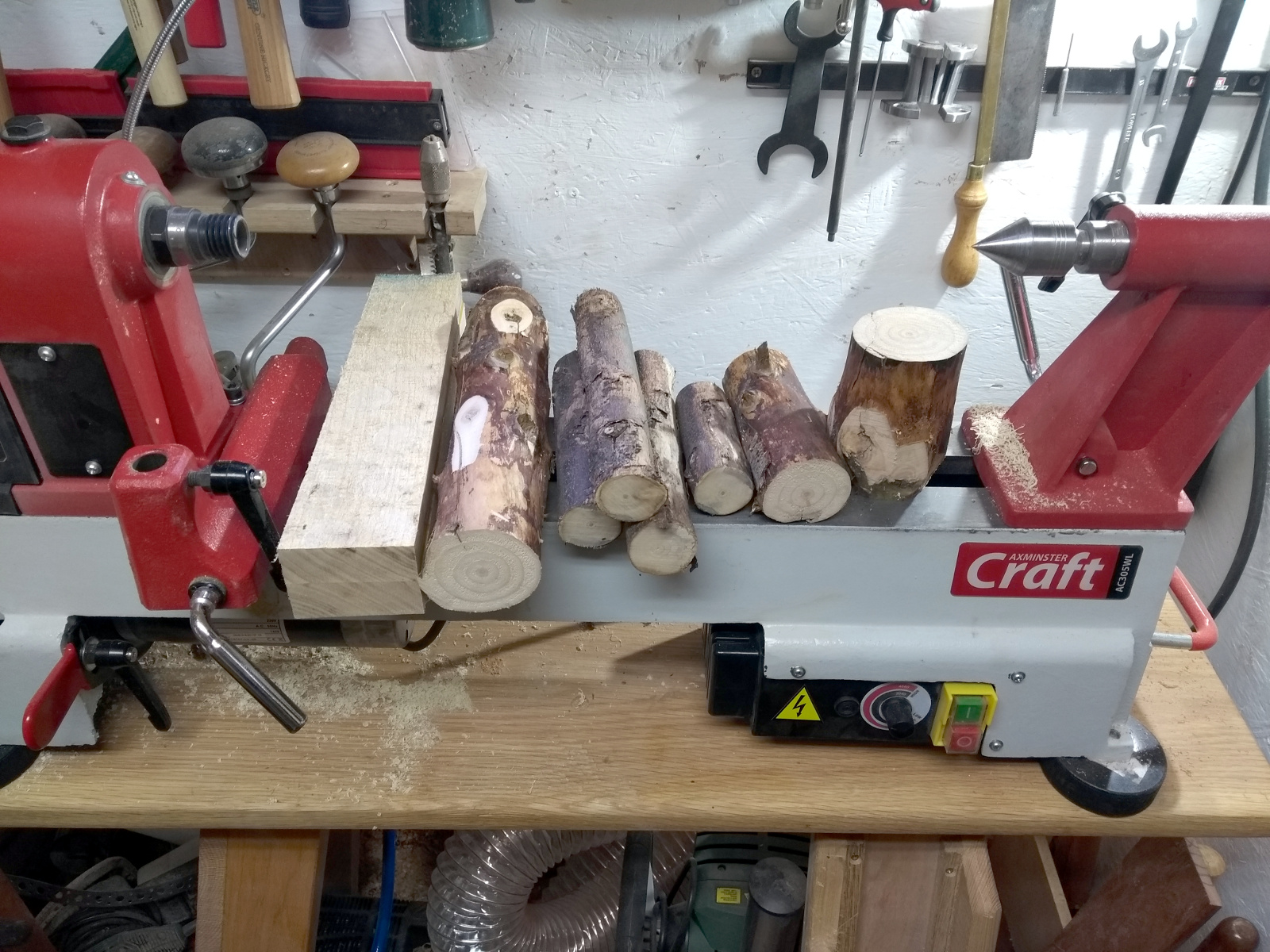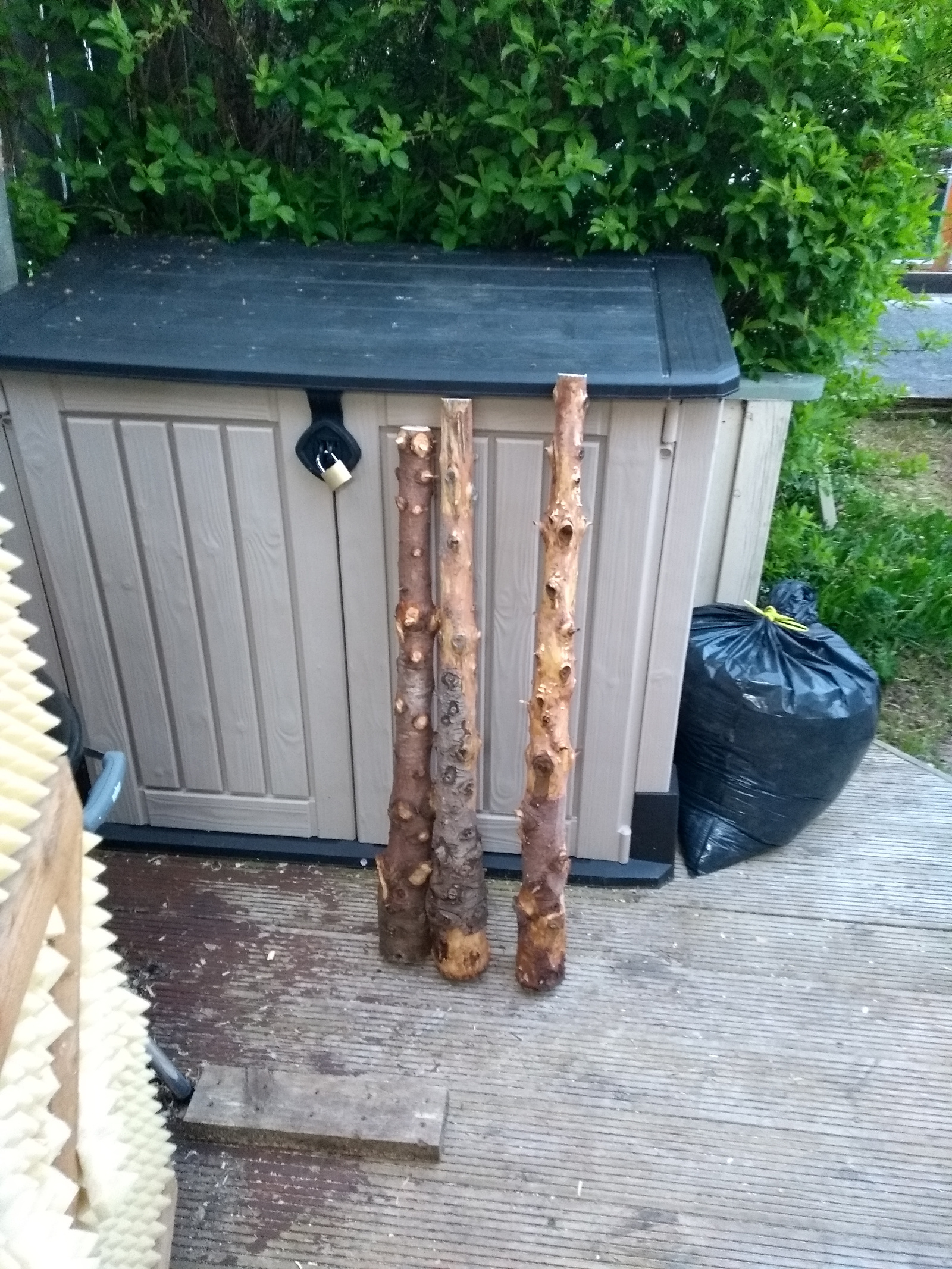 The oldest two trees just resulted in a handful of chunks but the most recent trees yielded a lot more material (that binbag is shavings btw, I had to empty the extractor that day)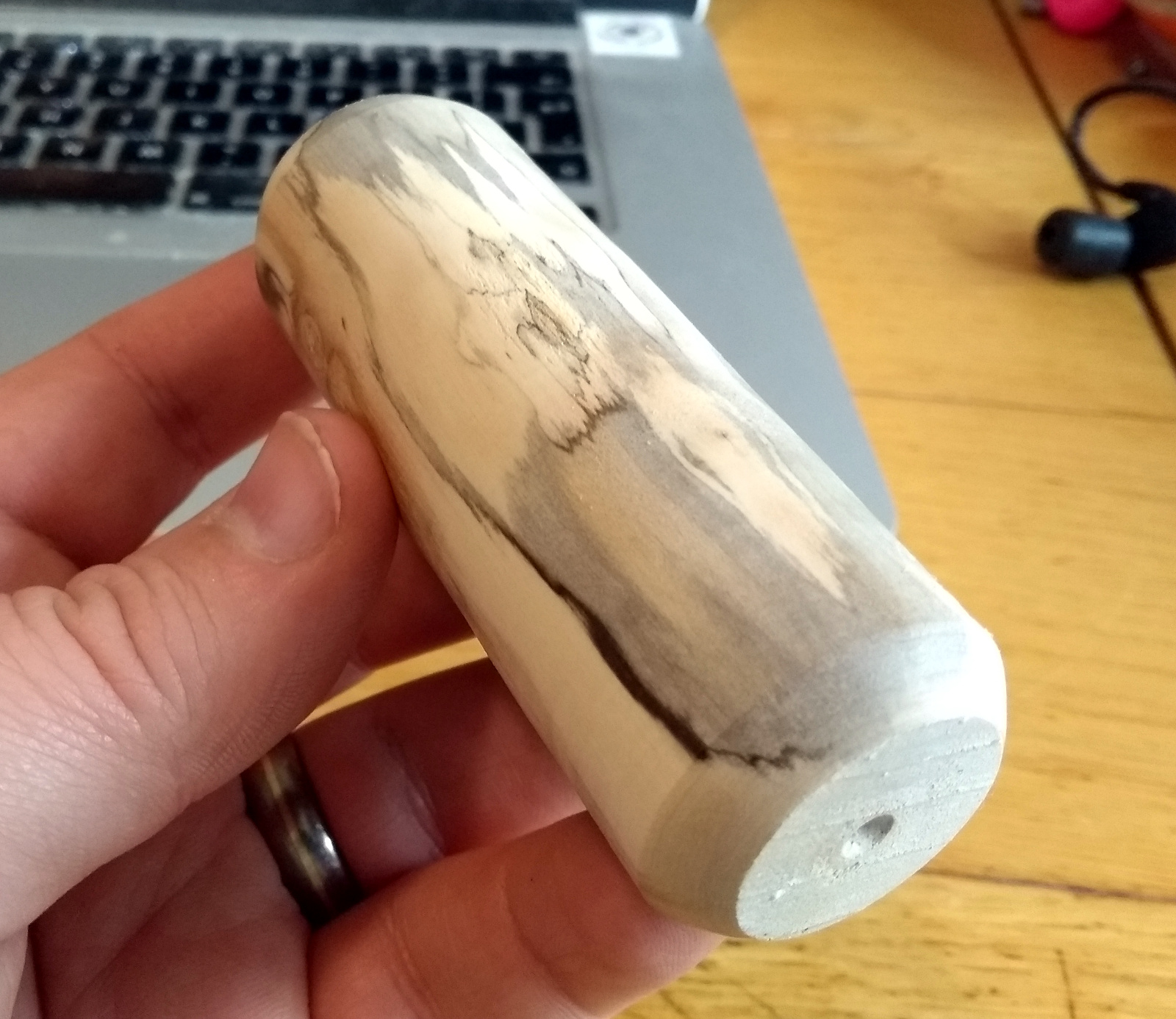 Some of the smaller pieces turned out to be spalted when rough-turned, which is kindof pretty in a monochrome sort of way.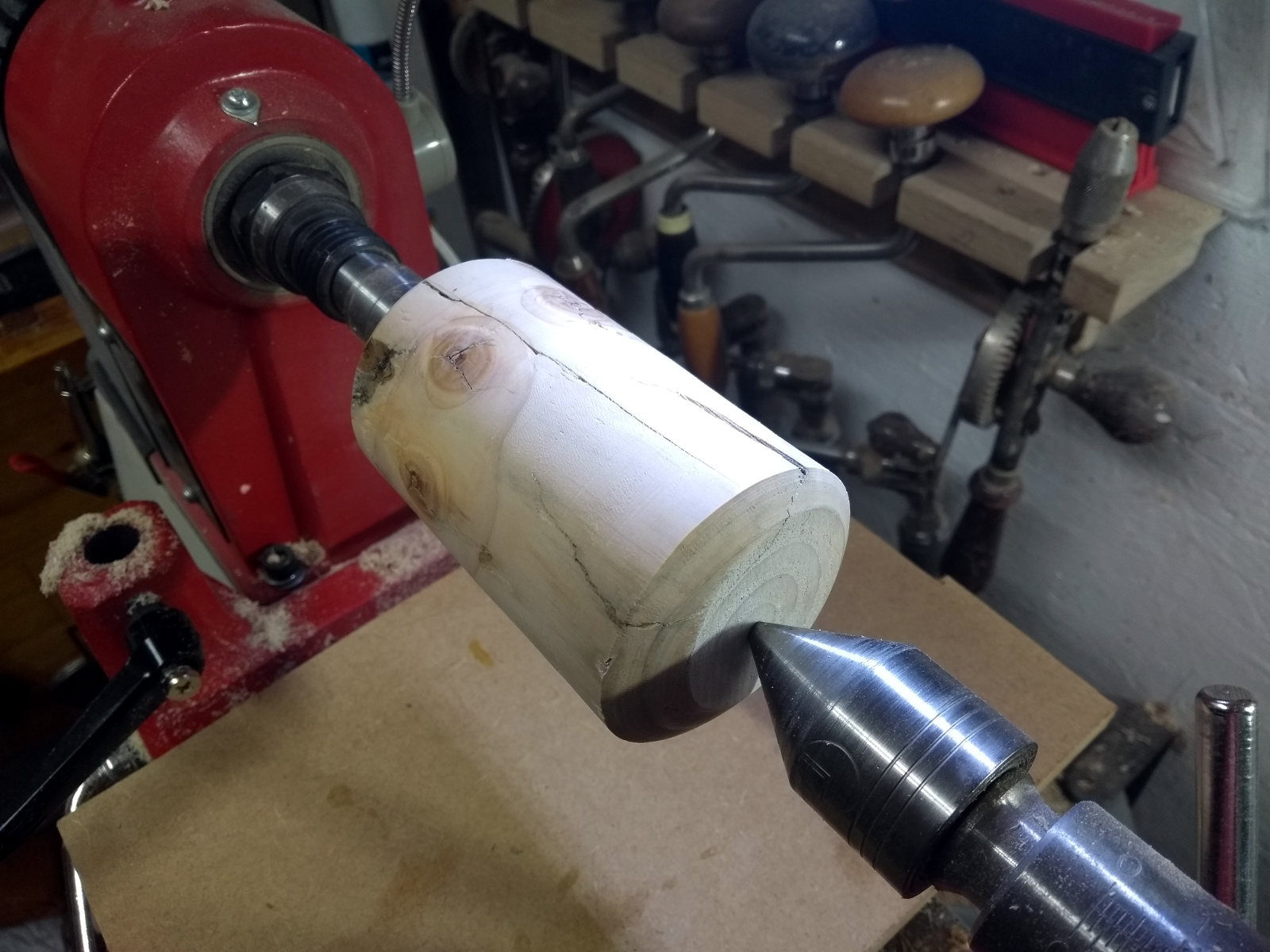 The shakes in this piece were just too large to ignore though, so out with the hot glue gun to make a dam and it's resin time!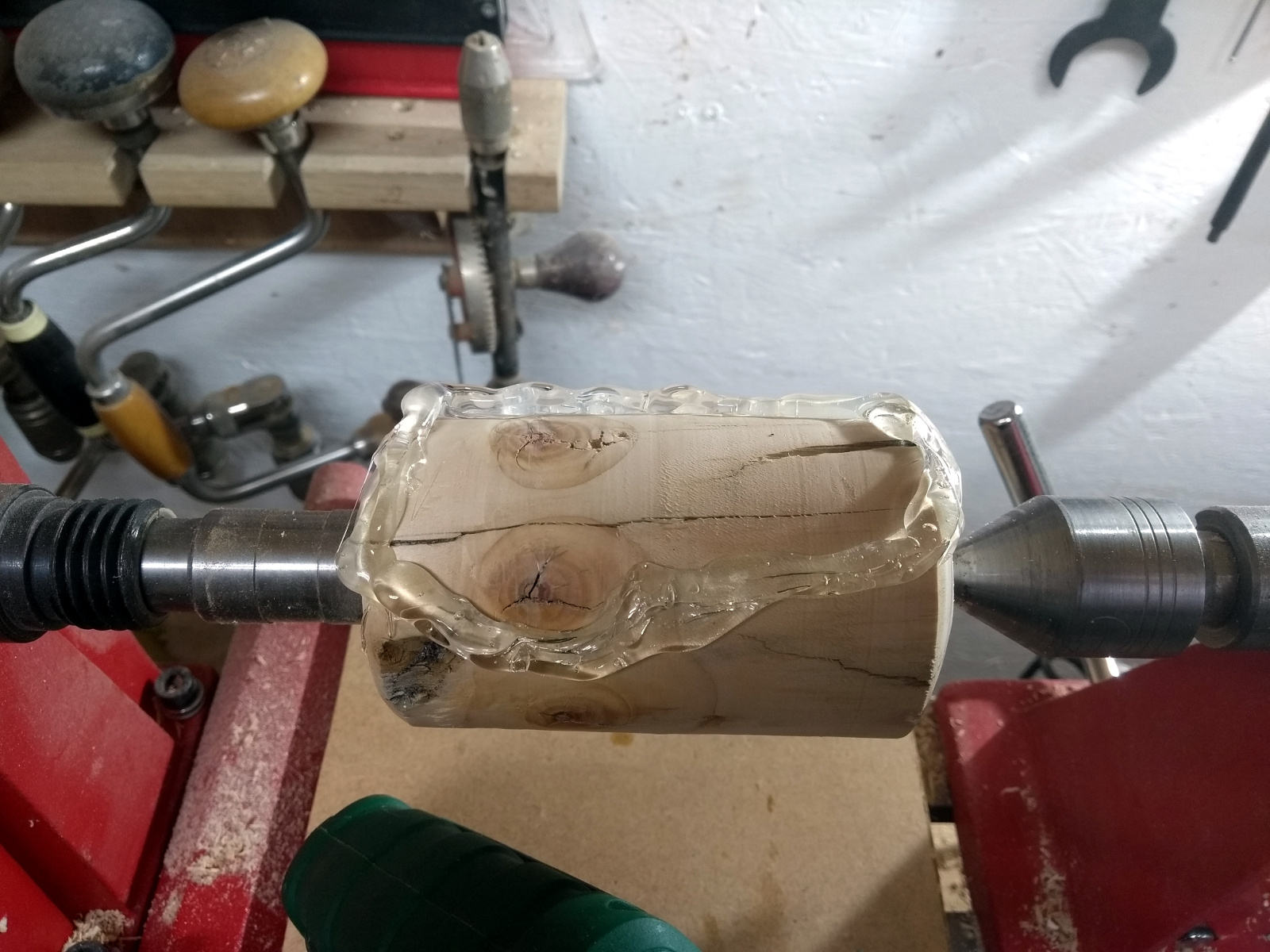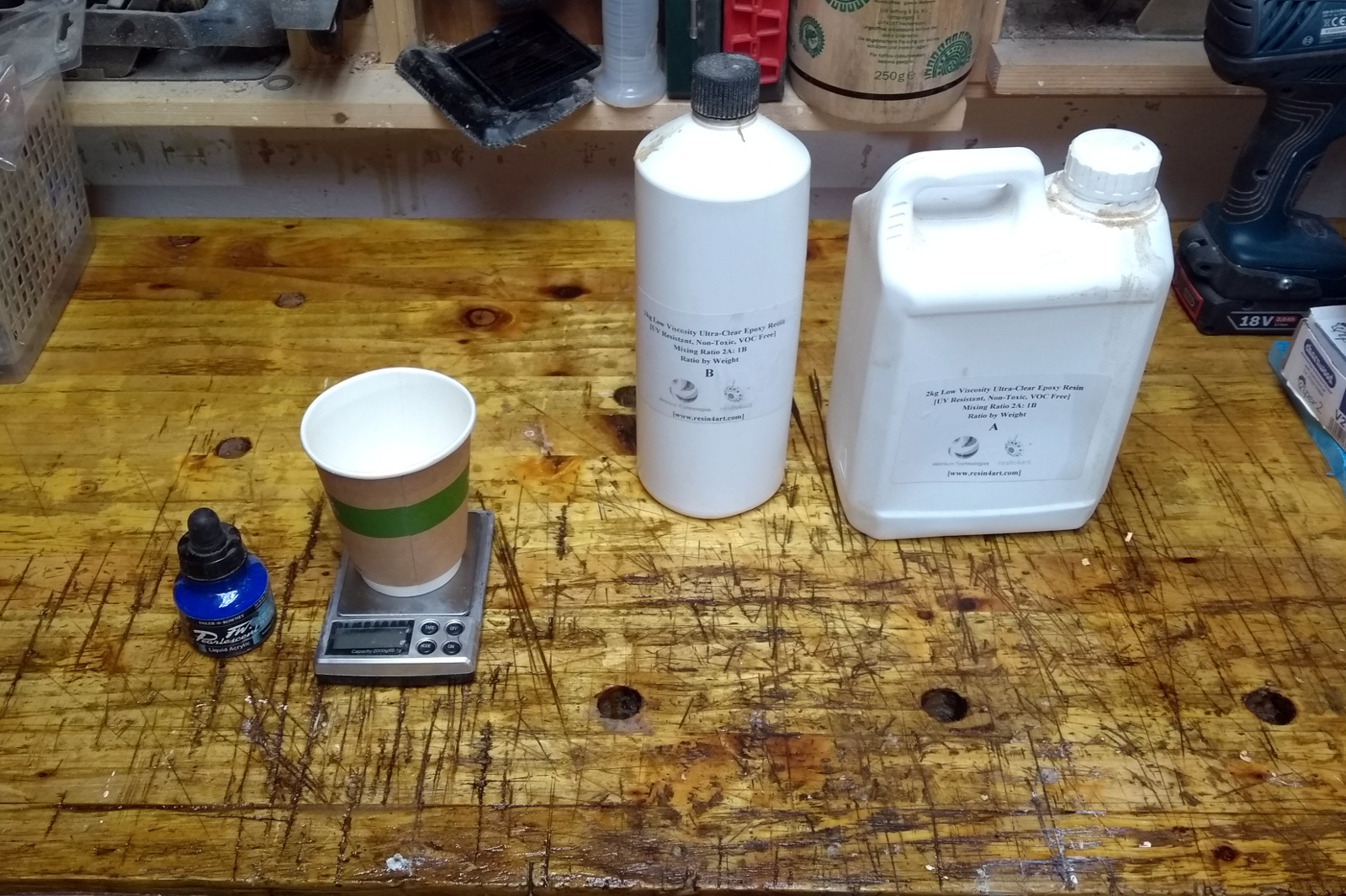 Daler-Romney pearlescent acrylic ink in sun-up blue, in case you're interested.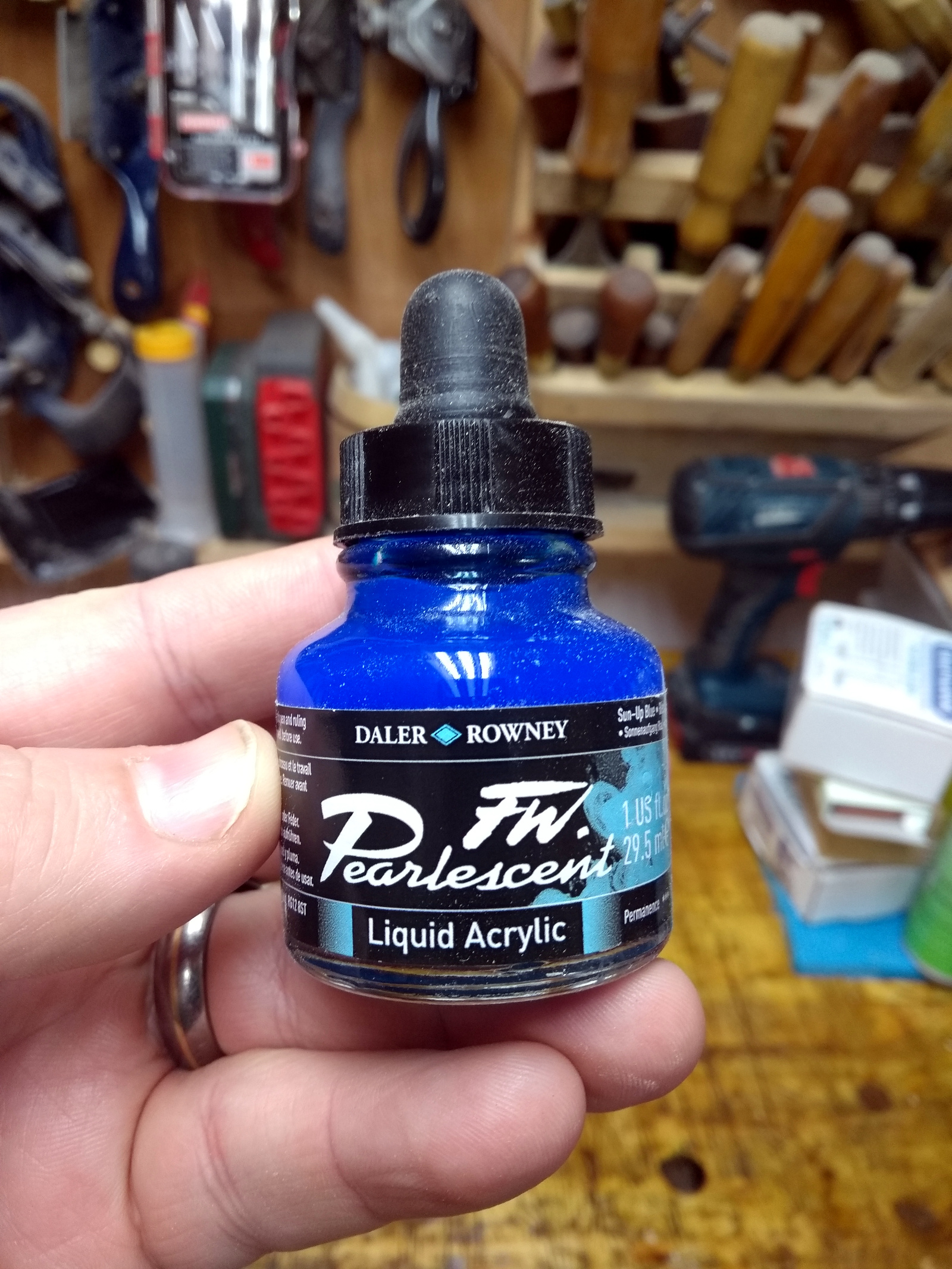 It's pretty nice stuff, and handles very well. I may need to get a few more of these. The resin pour proved messier than expected though…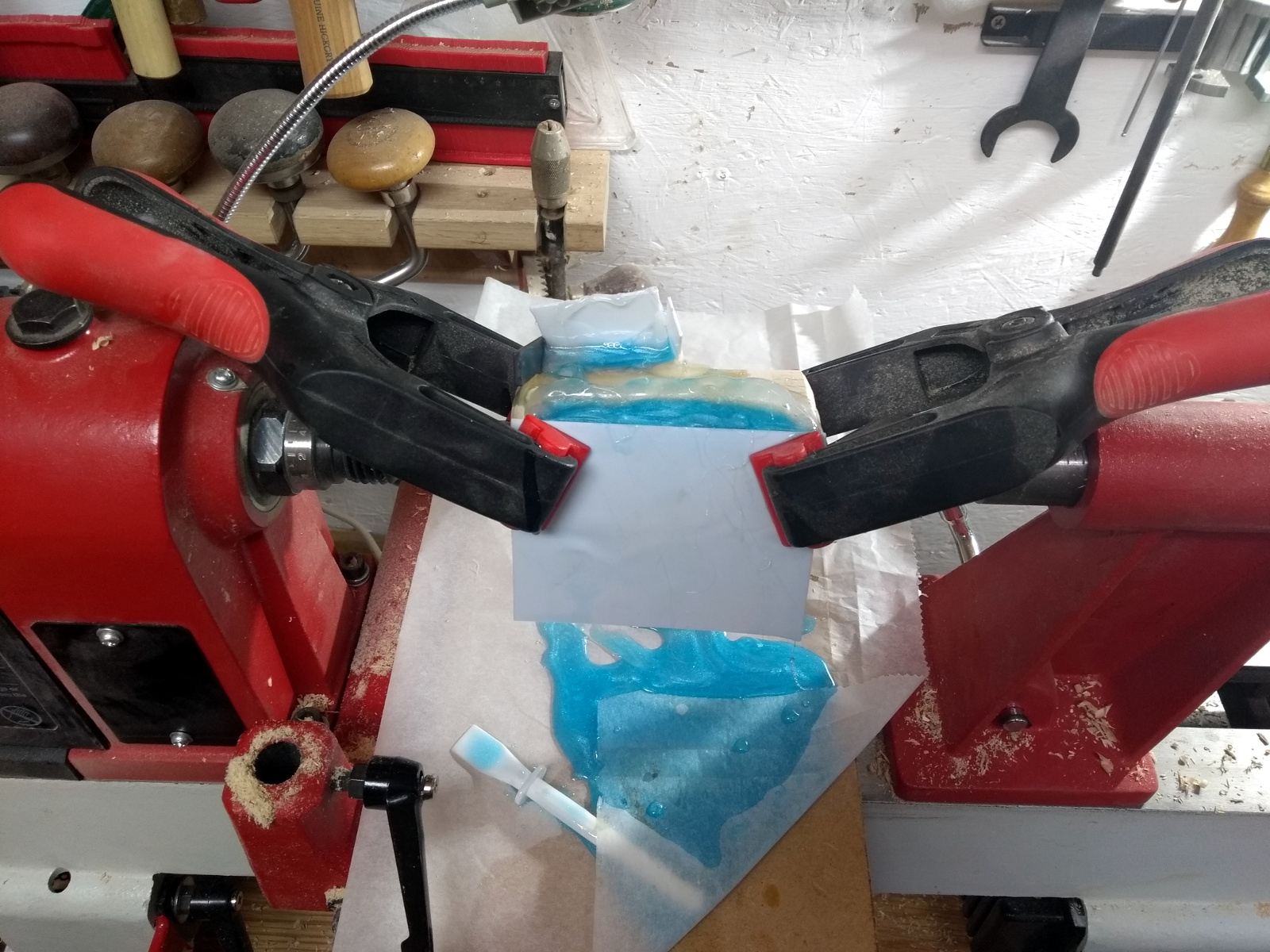 And yes, the whole damn thing did in fact leak all over the live center, lathe bed and drive center and why yes, that was so much fun to clean up, how did you guess?
You couldn't even really see the resin and its colour in the end. But it held the piece together while I chucked it up then put a jacobs chuck and 7mm drill bit into the tailstock and drilled out the center for an insert from a kit (bought mine from The Carpentry Store). I turned a small test shape to see how the wood handled, sanded it, sealed it, thought "no, that needs colour" and stained it then thought "wait, sanding sealer and stain should have gone on in the opposite order, oh bother", and then promptly bent the ferrule learning how to get the head and ferrule into the tube running through the center.
Still. It's only a test piece, I have three-and-a-bit trunks to play with still. And the stains don't react too badly to pine (and it's interesting to see how they react when you seal the surface first), and the buff-it gold compound I used as embelleshing wax works nicely (gold because, you know, xmas colours). So I learned a few things (like don't try to pour resin into a crack in a piece while it's still on the sodding lathe). Worth doing.

So there you go, an ex-xmas tree xmas tree decoration 😀