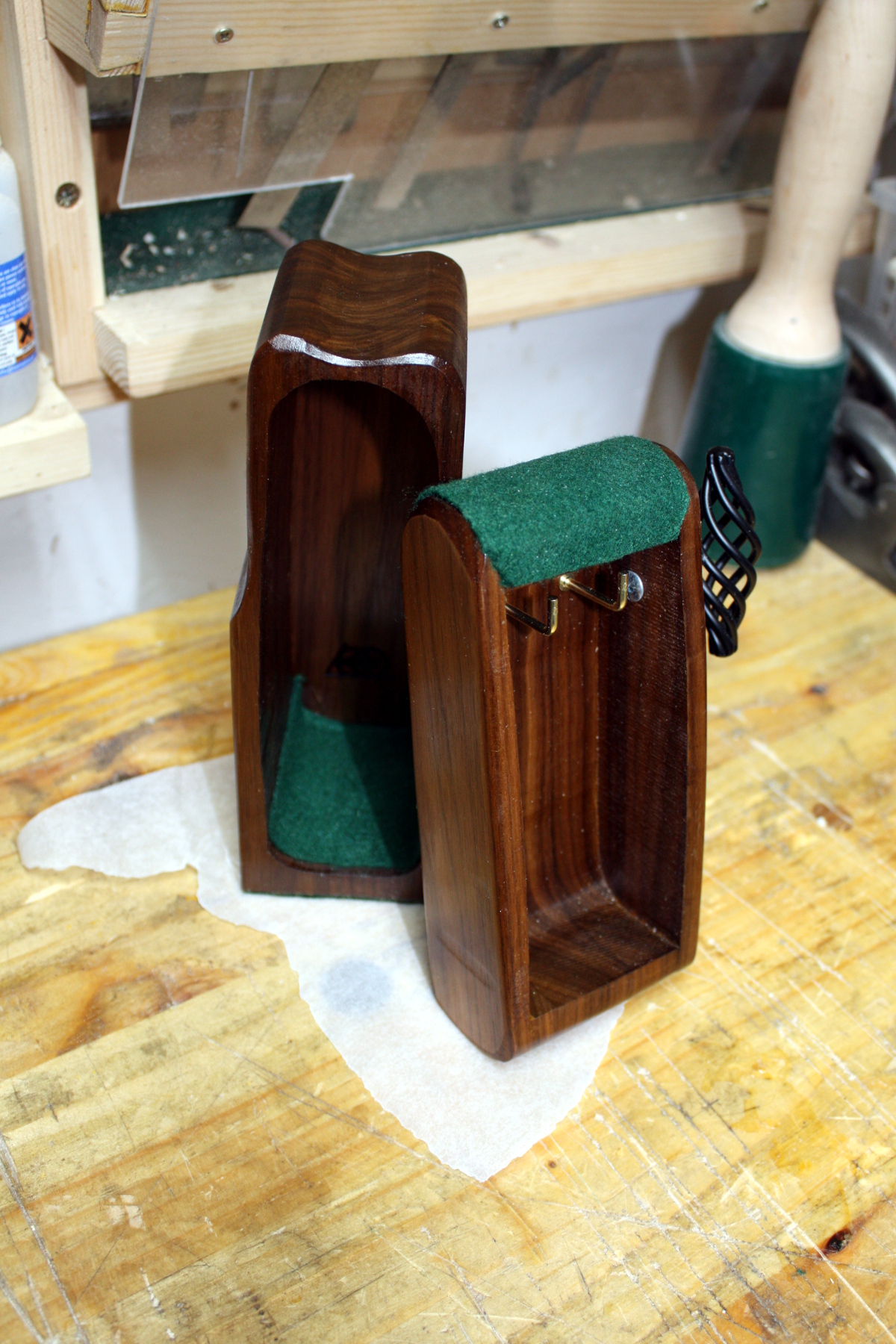 So, I'll start with the end of something. Made as a gift for a friend of Claire's:
Walnut offcut from the cot, some brass and pewter hardware and felt and viola, a small necklace box. Or key box I suppose. Didn't come out too badly.
Then it was time to start pushing.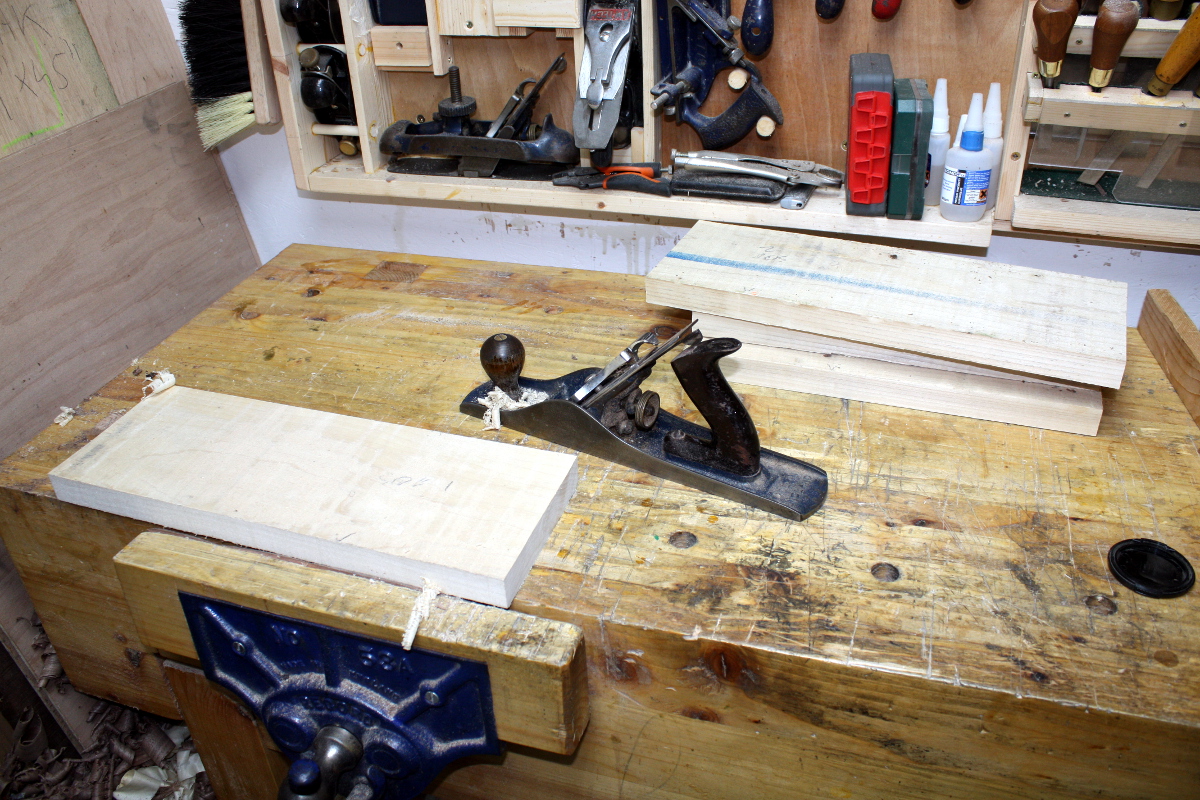 The problem with making a lot of rough-cut component parts is that then you have to turn them into planed non-rough component parts. At least it's just poplar. And I did stop for forty minutes or so at the start to take the irons from my #04, #04½, #05 and #05½ planes to the diamond plates. It would have been less time, but I discovered the #05's iron was skewed quite badly (one side was almost 2mm longer than the other). No wonder my lateral adjuster was always canted right over. Cue a lot of time on the 300grit plate because for some reason I thought that'd be faster than turning through 180 degrees and taking the bench grinder down off the wall. I don't know, ask your mom.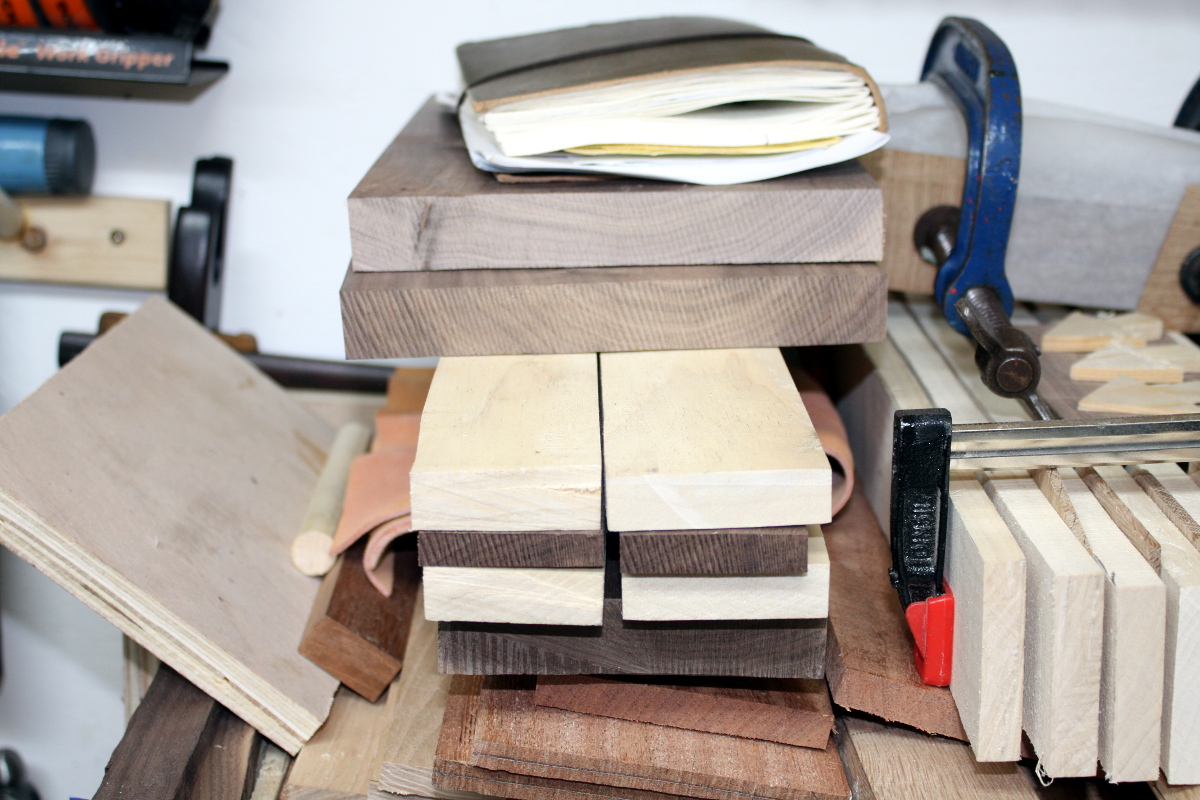 I'm finding that this is pretty nice poplar by the way, I'd be tempted to oil this stuff. I know it gets a bad rap with woodworkers who think timber is NFG if it wasn't all riven by hand from a single tree that grew in a tropical rainforest on the southern slope of a hill in Fiji before being cut down by hand using dental floss, but this has some nice grain and surface appearance. I might do this project over again in beech later, but I'm not regretting using the poplar here.
That chunk of plywood and the dowel on the left will become a new Japanese saw benchhook: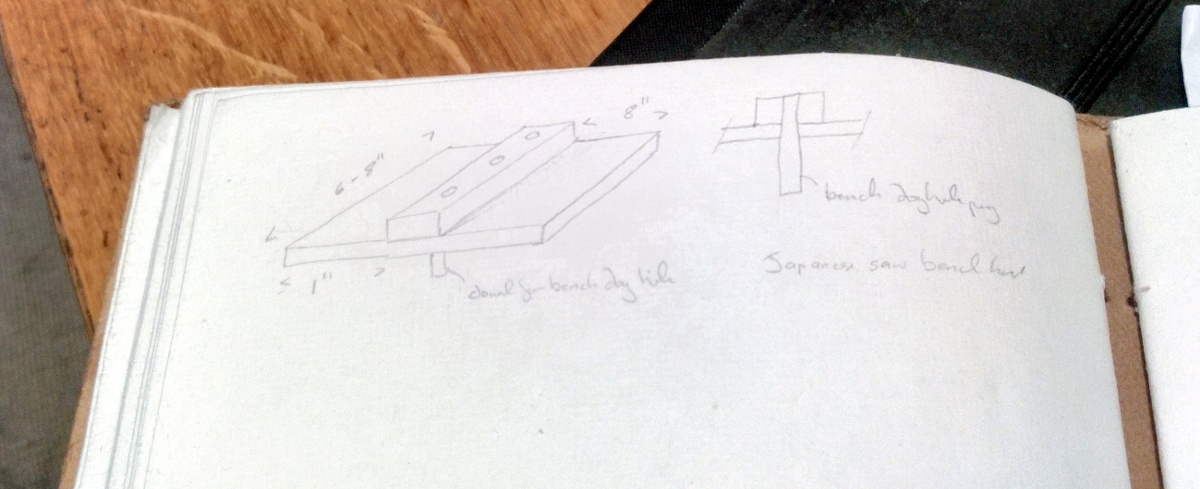 I was going to use that small piece of sapele the dowel is resting on as the stop but it's a bit short and a short stop is a bit of a pain so I planed, halved and glued up a scrap piece of walnut there on the right. Yes, scrap walnut exists. Hush.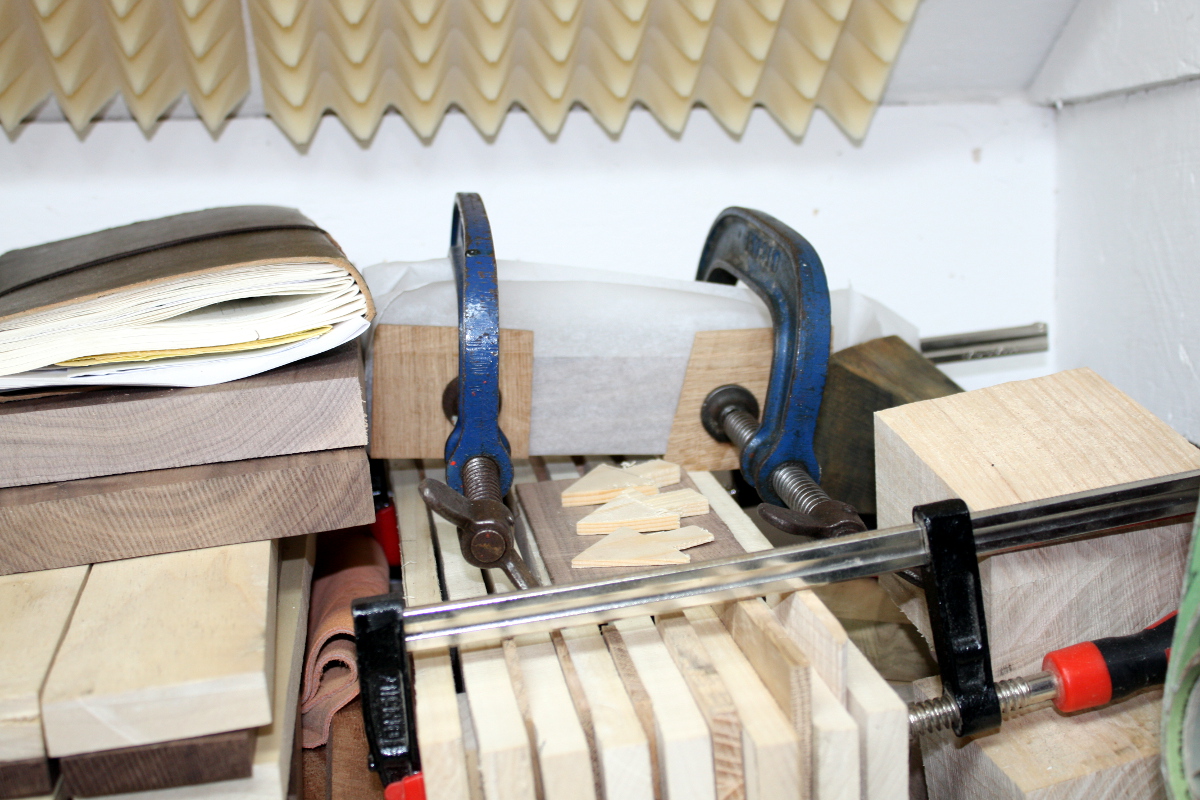 I don't know why I'm keeping those little pine arrow shapes and the walnut scrap they're on. Every time I go to chuck them I just find myself stopping for some reason. Presumably my subconscious has an idea it's not ready to tell me about yet. We'll see.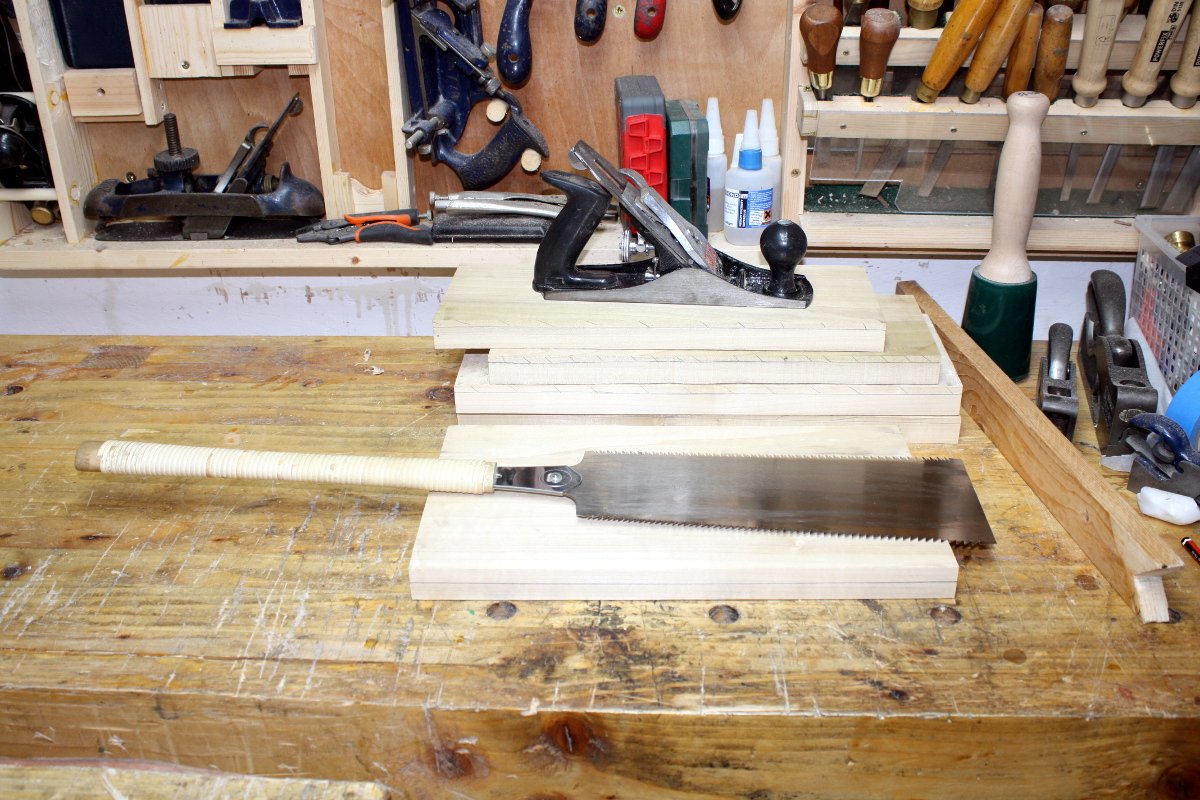 Four boards to thickness down by a quarter inch and an eight-inch wide board to resaw. Well, that'll get you procrastinating in a hurry. I'm annoyed as well, I bought a frame saw just for this job and it's still in Germany. What's the holdup…
Huzzah! It might be here by tomorrow so. Right, ditch the resawing/thicknessing work and let's park that project until the saw gets here on the bet that a frame saw makes resawing as easy as everyone says it does.
On to other things. I have a few bandsaw blanks; time to stare at them for a while and think of what to do with them…
We'll see if they turn out the way I hope. I don't like using machinery at the best of times but that late in the evening it felt like it'd be unsocial so nix that and I'll do it tomorrow.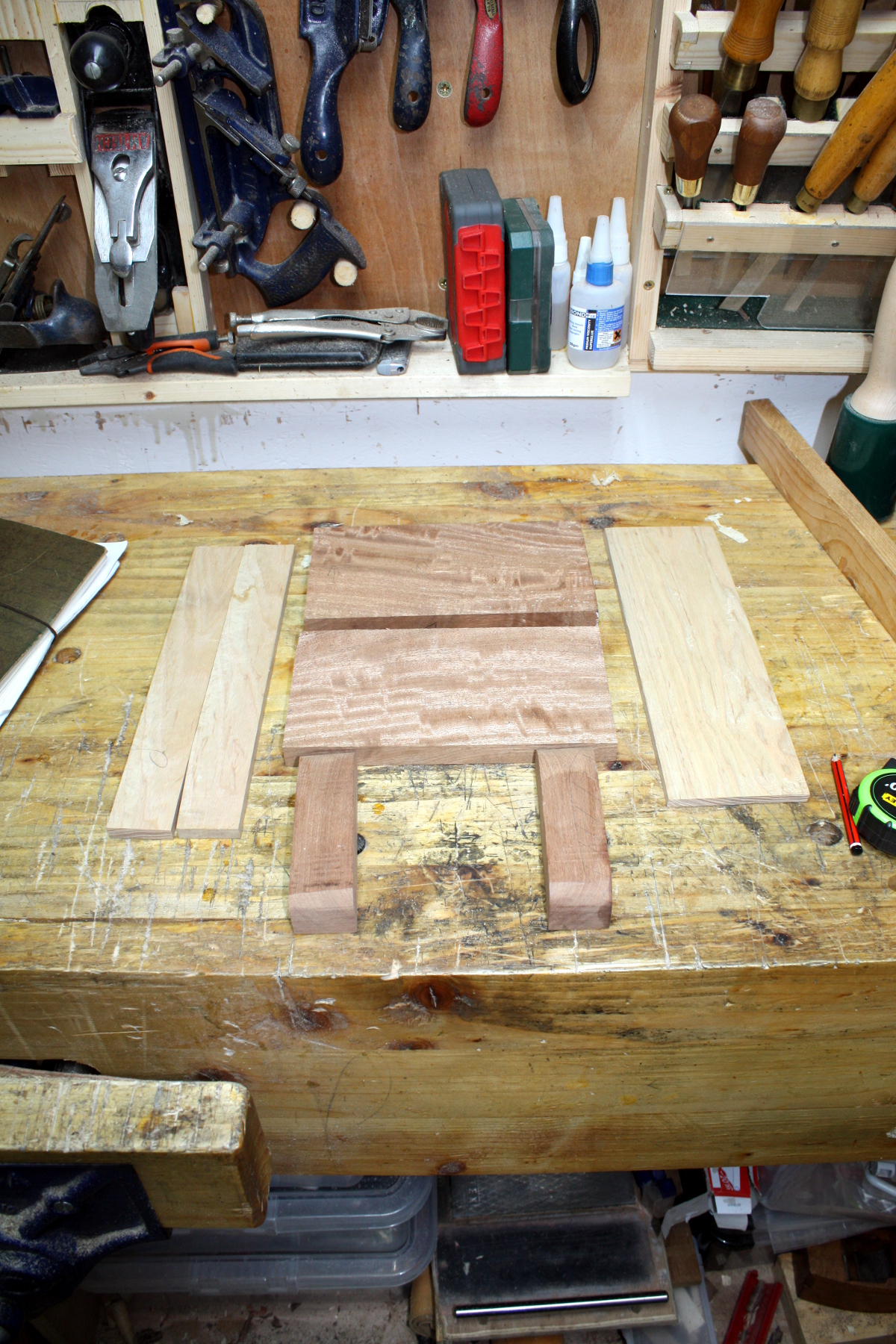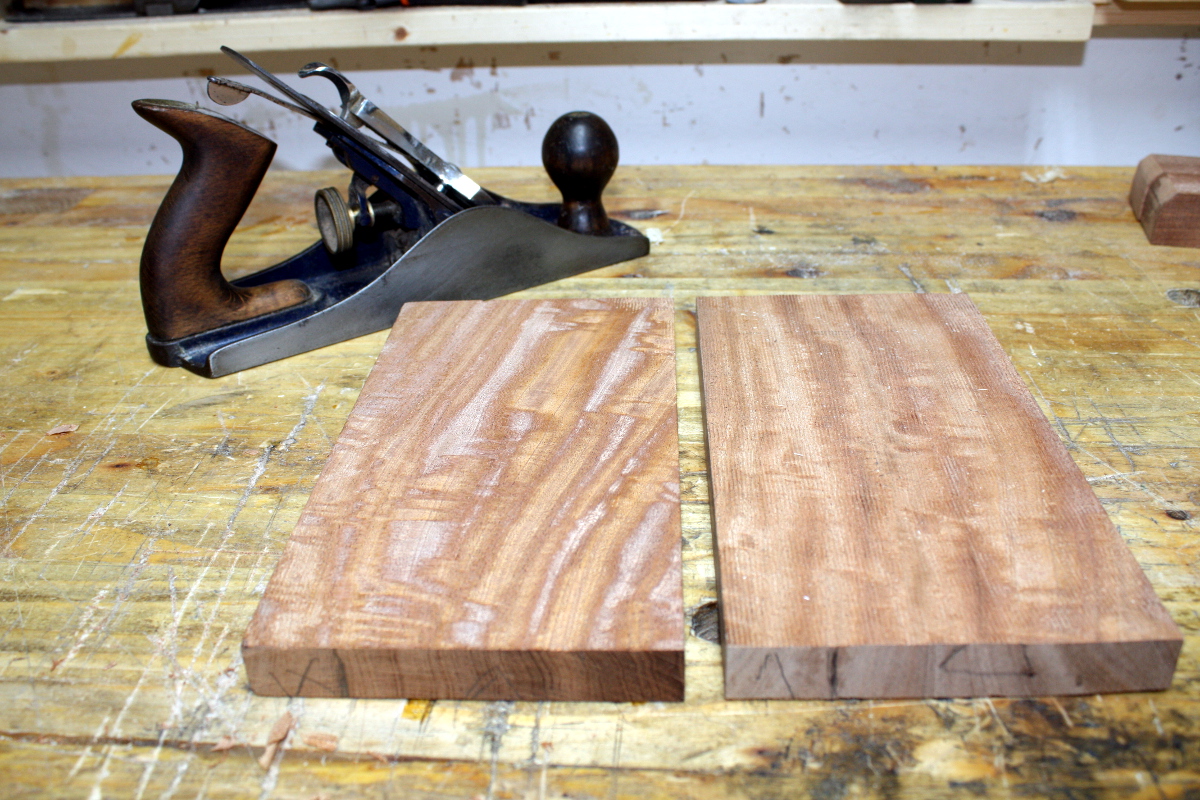 Sapele. Lovely to look at but a complete PITA to work with by hand. The toothing plane was needed to flatten that board (hence the grooved dull appearance of the board on the right) and to then smooth the surface I resorted to my #04½ because I ground that thing with a higher angle a while back and put a back bevel on the iron. And even with it set to a whisper thin cut and skewing the iron and having the chipbreaker set within a glint of the cutting edge, it's not quite perfect. Scrapers will be needed… but I'll leave that till after joinery is done.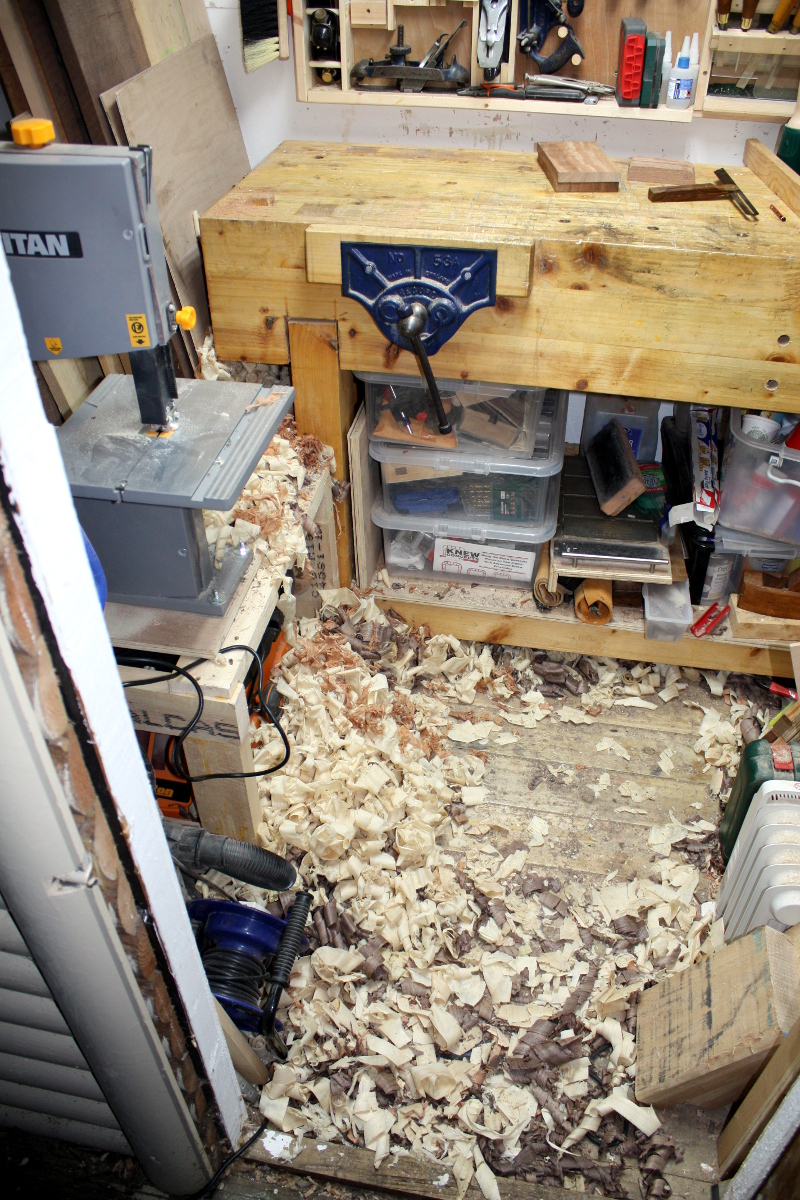 Meanwhile, I need to do some cleaning up. If only I knew someone who had a wood stove in the middle of the kilkenny countryside I could get to burn this lot…
And it'll probably get done sometime next week, but I have another commission. That's the word for when your wife orders you to make something for junior, right? 😀 He needs a shelf for his bedtime story book, but it should go on the floor because that's the easiest place to keep them if you're sitting by the bed reading to him. So…