A no-muss, no-fuss, no-work recipe for the best, juciest, tastiest turkey ever.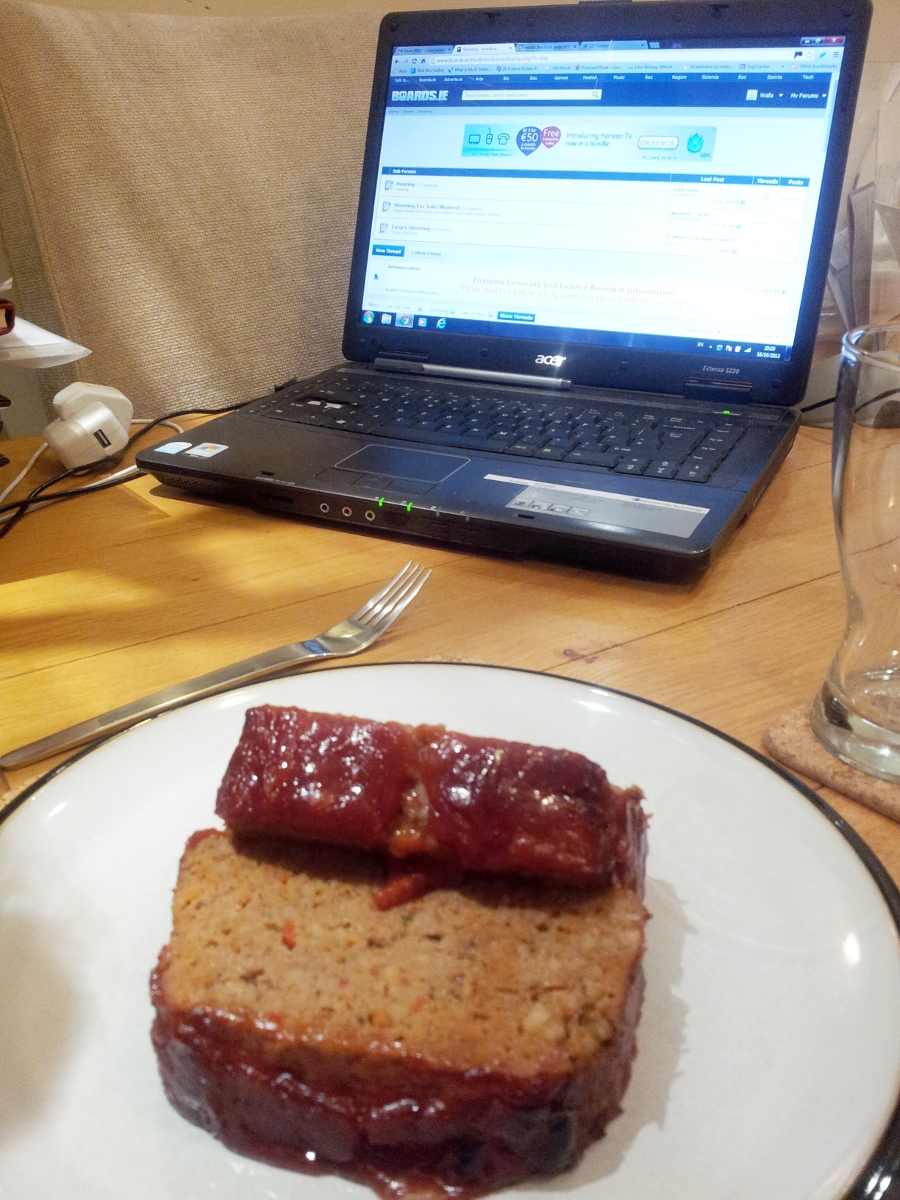 [stextbox id="info"]Now a Cooking Club recipe on Boards.ie as well…[/stextbox]
Okay, recipe time again, and again going with an American classic, this time meatloaf (yes, I know, we did it before, but this one's different). And as with all recipes, we start with a history lesson. Born Marvin Lee Aday in September 1947…. ah. Right, sorry, wrong notes, give me a second…
FINELY CUT PULP [of pork] IS GROUND WITH THE HEARTS OF WINTER WHEAT AND DILUTED WITH WINE. FLAVOR LIGHTLY WITH PEPPER AND BROTH AND IF YOU LIKE ADD A MODERATE QUANTITY OF [myrtle] BERRIES ALSO CRUSHED, AND AFTER YOU HAVE ADDED CRUSHED NUTS AND PEPPER SHAPE THE FORCEMEAT INTO SMALL ROLLS, WRAP THESE IN CAUL, FRY, AND SERVE WITH WINE GRAVY.
That's Apicius de re Coquinaria, a 5th century Roman cookbook of sorts, and that does appear to be a kind of meatloaf-ish recipe ("hearts of wheat" refers to very fine wheat flour).… Read the rest
Online game on chess.com. Pawn and Rook up against a player ranked rather a bit higher than me, and not by accident so I'm feeling pretty smug.
[pgn eo=t initialHalfmove=65 autoplayMode=none h=800]
[Event "Chess.com Open – Round 1"]
[Site "Chess.com"]
[Date "2013.05.02"]
[White "guerocles"]
[Black "mdennehy"]
[Result "1-0"]
[WhiteElo "1461"]
[BlackElo "1260"]
[TimeControl "1 in 3 days"]
[Termination "guerocles won by resignation"]
1.e4 c6 2.Nf3 d5 3.exd5 cxd5 4.d4 Nc6 5.Bb5 Qa5+ 6.Nc3 Nf6 7.O-O Bd7 8.Bxc6 bxc6 9.Bd2 Bg4 10.Re1 e6
11.a3 Be7 12.Ne4 Qb5 13.Nxf6+ Bxf6 14.Bc3 O-O 15.b4 Qc4 16.Qd3 Bf5 17.Qxc4 dxc4 18.Ne5 Bxc2 19.Rac1 Bd3 20.Nxd3 cxd3
21.Rcd1 Rfe8 22.Rxd3 Be7 23.Rg3 Bd6 24.Rxg7+ Kxg7 25.d5+ Kg8 26.dxc6 Rac8 27.b5 Bxa3 28.Re4 f5 29.Rd4 Bc5 30.Rd1 Red8
31.Rxd8+ Rxd8 32.Kf1 Rd1+ 33.Ke2 Rd5 34.c7… Read the rest