Hungry now. Herself out shopping for the day, and Calum crawling around playing with toys. Hm. Strap him into his bouncer seat and start pulling out pans and knives and turn on the kitchen fan for the white noise and then…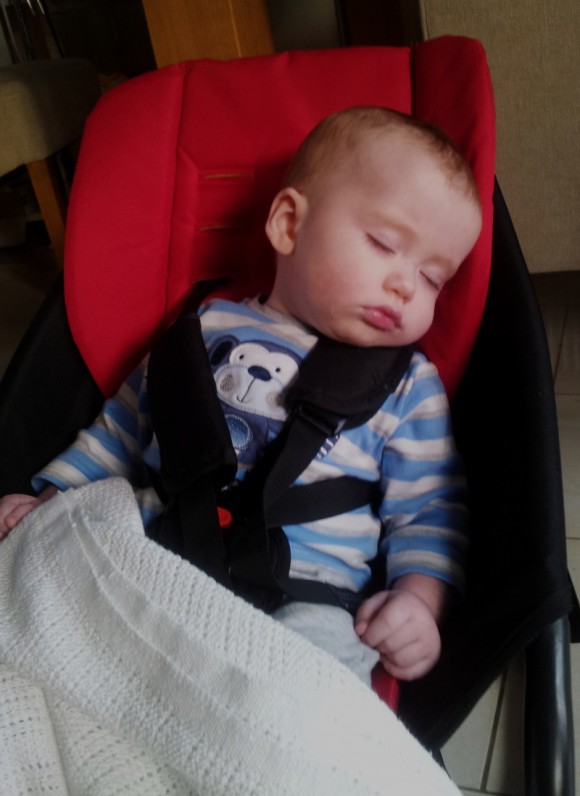 Right, and we're off 😀 How fast can you cook chicken ramen from scratch?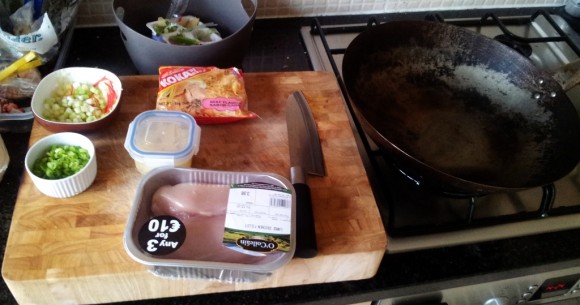 Chop some spring onions (save the top inch or two for fine slices for a garnish at the end), a slightly-bigger-than-thumb-sized bit of ginger (you want to go heavy on the ginger for ramen) and a single clove of garlic (I love garlic, but you want to go light on it for ramen), smashed and minced fine, and also a little bit of chilli (about an inch of a large fresh chilli, deseeded and with the inner membrane removed and then julienneed very fine – you just want warmth, not heat). A pack of instant noodles (you can do ramen with lots of different kinds of noodle, but these instant ones are the ones I first had in Wagamama's ramen and I'm fond of them, plus, they're cheap! 😀 ), chicken breasts and bamboo shoots and some baby spinach (out of frame to the left). And some frozen chicken stock, also out of frame to the left (it's not cheating, it's made from scratch ahead of time :p )
First, the chicken. Trim the breasts, season with salt and white pepper, then into a warm (not hot) pan with some olive oil to slowly grill (it doesn't have to be a small cast iron pan, but it doesn't hurt if it is). We leave these alone, turning once during cooking.
Now, in with some peanut oil into the hot wok, then all the chopped spring onions, garlic, ginger and chilli and stir fry for about 30 seconds, no more – you want this to taste fresh, not charred. Now add the frozen stock and about a cup of boiling water from the kettle to stop the aromatics from burning while the frozen stock melts.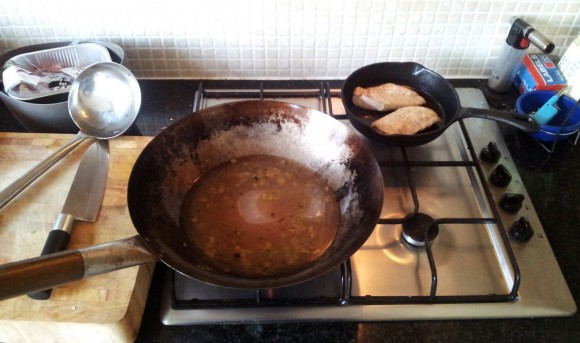 Now, just let it sit in the wok for a few minutes, stirring every so often to stop anything sticking to the bottom and burning and let all the frozen stock melt and let it come back up to a boil. Then add the noodles first (dump the flavour packet and the broken bits into the bin). Let the raft of noodles just float there, then take two handfulls of spinach and rip and tear it onto the top of the bubbling stock. Leave for a moment.
At this point the chicken should be done; take it from the pan, and slice it.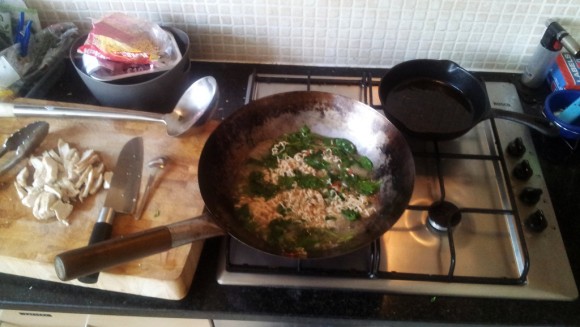 Now, with tongs toss the noodles in the broth (they need a total of three minutes to cook properly). When they're done, lift the noodles and spinach from the broth with tongs, and place in the serving bowl (you want a big bowl even for a little serving with ramen btw). add some bamboo shoots on top of the noodles and then heap the sliced chicken on top of that; then ladle on a few ladles of broth until it looks like    ramen instead of a heap of spaghetti 😀
Serve with a little chocolate on the side if you added chilli btw…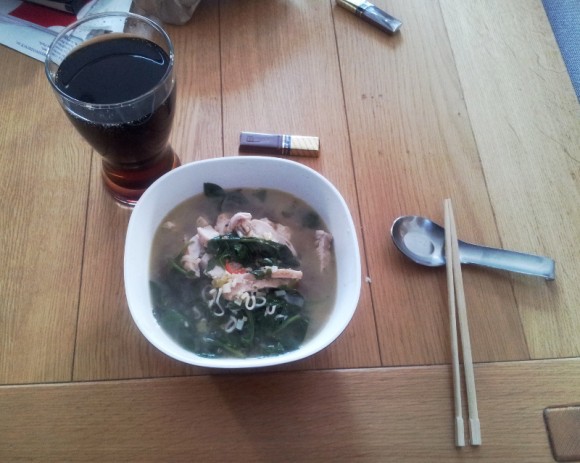 30 minutes from Zzzzzz to OmNyomNyom. Why's the time important? 'Cos this takes ten minutes to eat and your average naptime is 40 minutes 😀